We are delighted to announce that TMIC will be celebrating its 10th Anniversary on the 16th of March.  Planning for internal celebrations is well underway and we are looking forward to another exciting and fruitful decade.  A big thank you to all our wonderful clients, family and friends for all of their support over the last ten years! TMIC also has 2 new team members:
Sarah Hannigan recently joined the field and coding department.  Sarah comes from a television production and recruitment background having worked in the media industry for over ten years.  She has recently returned from working in a similar area in the Irish film and television industry in Dublin and is now looking forward to working on many of the new and exciting projects coming up for TMIC.
Irene Kourtis recently joined the project secretary and support team.  Irene comes from a recruitment and HR background having worked for leading Australian industrial companies.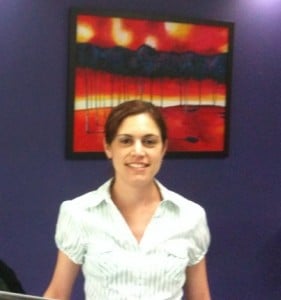 Irene
Lastly we would like to share a few snaps from recent TMIC staff adventures.
Parasailing
Maria, Paul & Angela at ACDC
ACDC Black Ice Tour
Melissa, Maria & Paul at ACDC