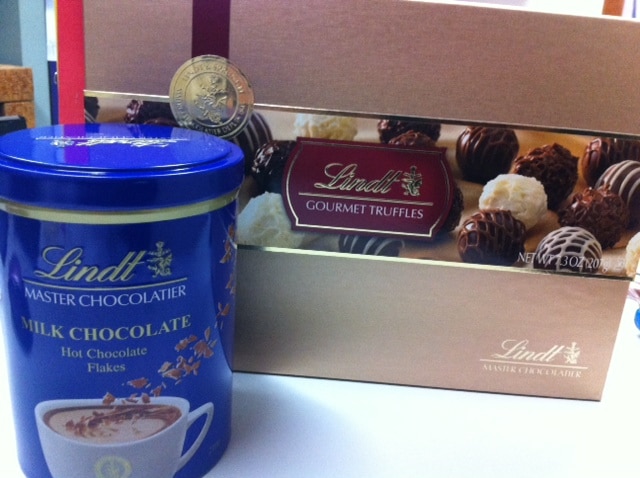 A few members of the TMIC team have been on strict juicing diets over the last few weeks. Nothing like the cheeky Easter Bunny to nip that in the bud! Angela has spoiled us this year with an abundance of Lindt tasty treats … In honour of Easter we have included a Lindt chocolate recipe – to be eaten at your own risk!
Enjoy!!
Milk Chocolate and Cardamon Panna Cotta
You could substitute the cardamon with cinnamon, vanilla or even rose petals. Serve the Panna Cotta with a mixed berry compote.
Serves: 8 – 10
Cooking time: 20 mins
250g Lindt Excellence Extra Creamy chocolate
600ml cream
150ml milk
70g sugar
7 cardamon pods
15g cornflour
3 gelatine leaves (can substitute 3 teaspoons of gelatine powder)
1. Take 8 to 10 dariole moulds* and grease well.
2. Soak the gelatine leaves in cold water and set aside.
3. Mix together cream, sugar and milk in a saucepan.
4. On a chopping board, slightly bruise the cardamon pods with the blade of a knife in order to release their aroma, then place in the cream mixture and bring to the boil on a moderate heat. Once boiling, remove from heat and strain out the cardamon pods.
5. Mix approximately 4 tablespoons of the cream mixture with the cornflour in a separate bowl, creating a smooth paste – this will prevent lumps forming in the panna cotta. Set aside.
6. Break up the chocolate and add to the heated cream left in the saucepan while still off the heat. Stir until the chocolate has melted and the mixture has a smooth consistency, return to a moderate heat and add cornflour mix. Cook for about 30 seconds until it starts to thicken slightly, stirring continuously with a whisk.
7. Take mixture off the heat, squeeze excess water from gelatine leaves and stir in. Once dissolved, allow mixture to cool slightly before dividing equally between the dariole moulds* and allow to set in the fridge (covered) for at least 4 hours.
8. To turn dessert onto serving plate, dip mould in hot water for a few seconds to release the Panna Cotta, invert onto plate and serve
* Dariole moulds are small, steep sided cylindrical containers, available at homeware stores. If they are unavailable, use espresso cups