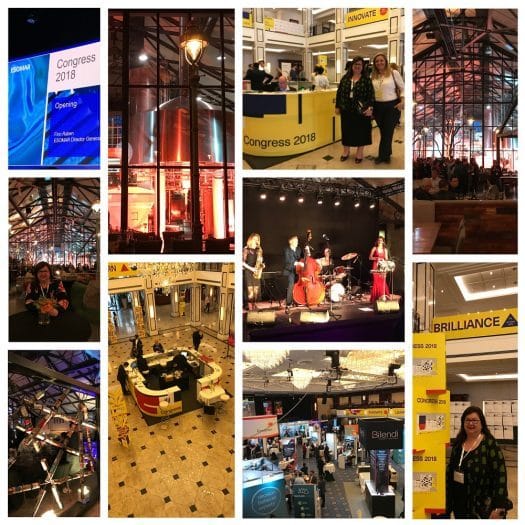 This year, Berlin was host to ESOMAR Congress 2018 and Angela had the opportunity to travel over to attend the exciting event. For those who may not know, ESOMAR is a membership organisation representing the interests of the data, research and insights profession at an international level.
Angela has provided some observations below.
"Congress 2018 for me was in parts inspiring and yet in other areas conflicting and challenging. I found myself having more questions than answers by the end of the Congress, such as:
– What's an "intelligent layer" or how will the 'VR Web' impact our business?
– Intelligence vs research – which is it?
– But the key question for me, as practitioners, is how do we stay relevant and give our clients what they need in terms or research outputs, insights, etc. without compromising individual research participant privacy/confidentiality (for both B2B and consumer participants)?
We know what to do as we already have procedures, systems etc. in place to safeguard respondent privacy/confidentiality but in doing so have we made ourselves less relevant and valuable? (Hence the rise of DIY research.)
Some of the best presentations at Congress showcased projects which demonstrated how research learnings (outputs and insights) were used to be impactful and valuable. 
In most cases it was about research that's meaningful at a micro, granular level so that it can also be linked and integrated eg. to a specific customer in their data base, CRM system, etc. The ability to customise to an individual level for many is very important to their marketing and strategy as the "one size fits all" approach no longer works or applies.
On the other hand, there was a fair amount of time at Congress devoted to the GDPR (General Data Protection Regulation), especially in relation to primary data collection, handling and storage, use and presentation. So how do we balance the two and give our clients the granular level and individual insights in this ever-increasing de-identification privacy driven environment? No doubt this will be an ongoing industry issue.
On a lighter note, here is a list of some key technological developments/areas to watch, extracted from a paper presented by Malcolm Devoy ("Merge – The Closing Gap Between Humans and Technology"), I really enjoyed his Congress session, and have had lots of fun bringing myself up to speed on the latest happenings in these areas…
 "Bot-Life" (eg. 'Alexa', natural language understanding)
"Messenger Concierge" (eg. conversation augmentation, daily integration and linked to purchase)
"NextGen VPA" (Virtual Personal Assistant; high accuracy level, natural language understanding)
"Ambient AI" (significant increase – in home, in car, other public places; spontaneous)
"Next Wave Wearables" (eg. smart rings, bio data, gesture control, touch alerts)
"Hearables" (eg. translation)
"Intelligent Layers" (multi-layer networking, a data layer across video, cameras, retail plug-ins, social content)
"First-Gen MR" (Mircrosoft vs. Magic Leap vs. Apple)
"The VR Web" (Construction of parallel worlds; not just for gaming).
Oh, what fun lies ahead!"